Activate the game in your school
The perfect game for educators to teach children between the ages of 6 and 11 about sustainable mobility and environmental awareness.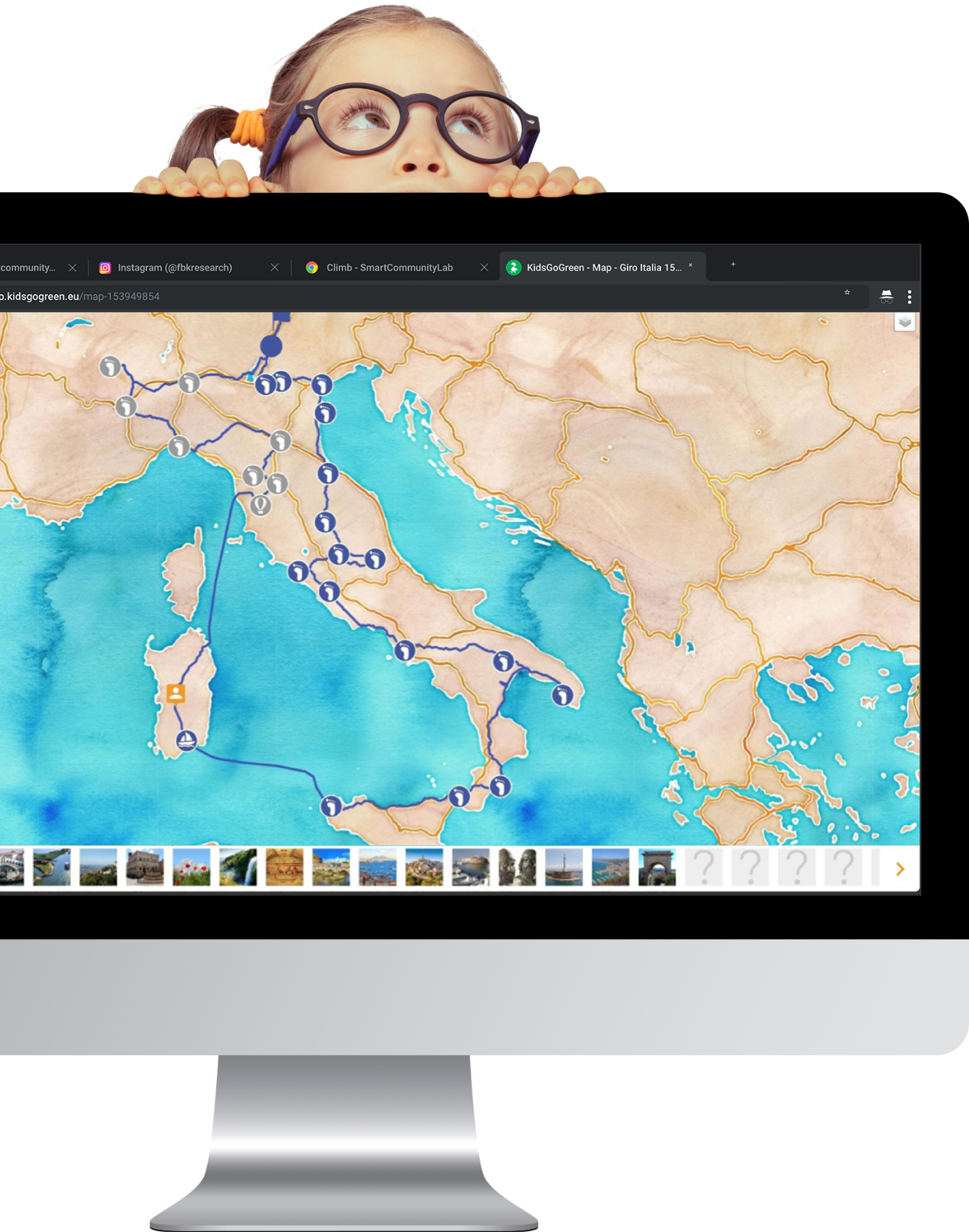 A playful education solution that involves the entire school community
The school defines a virtual path made of stages. The sustainable km distances made by each child contribute to the collective advancement along the route. The route and progress are shown on an interactive map.
Teachers can re-use and personalize the paths previously created by other schools.
The virtual journey:
Il giro d'Italia, 8.000 km, 23 stops
A. Schmid school, Trento, Italy
SY 2018/2019
Is it a school or a class activity?
A game can be associated to the whole school, to a group of classes, or even to a single class.
How many school months does the game take?
The game duration (and the virtual journey lenght) are calibrated to the group of participants. Suggested duration: 2-6 months.
What are the possible types of virtual journeys?
Journeys can be linked to the teacher and children interest: cultural, geographic, historical, literature, multidisciplinary, linguistic, etc.
A colour code identifies the home-school mobility mean
Who compiles the daily mobility journal?
The teacher or, as observed in most schools, the children themselves.
Do only home-school trips/km count?
Teacher can add also walking kms done by the children during school journeys and neighborhood activities.
The game foresees also "bad weather" bonuses, motivating children to walk or bike to school also during rainy days, and personalized school- or class=-level challenges
Multimedia educational material
Teachers associate multimedia and interdisciplinary didactic material to each stop. Upon reaching a stop, the platform unlocks the associated material that can be exploited for in-class learning.
What type of didactic material is supported?
Images, audio, video, any Web link or document.
Who selects the multimedia material?
Multimedia material is associated to stops by teachers, according to the learning interest and educational programme of the group.
Shared catalog of multimedia materia
Multimedia material selected by teachers, as well as virtual didactic journeys, become part of a shared catalog that can be exploited by the other schools.
"This experience is involving them a lot. And it becomes an educational activity "
Teacher
Biagio Rossetti Ferrara School
"Kids Go Green brings together the territory, the school and the families, each with a specific competence"
School Director
Istituto Comprensivo Trento 6
Are you interested in Kids Go Green? Contact our team.
Write us and we will get in contact with you.